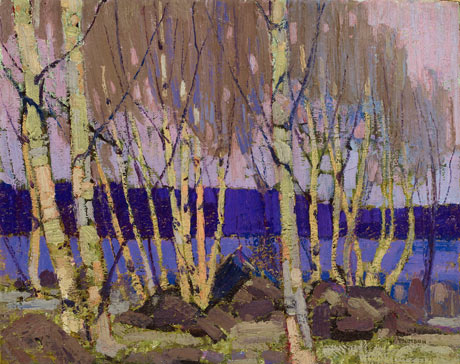 My recent visit to
Dulwich Picture Gallery
was not only for the reunion with old masters, but to see the
Painting Canada
exhibition, featuring
Tom Thomson
and the
Group of Seven
. My Canadian Mr Liam has talked of these paintings ever since we met, but what I thought was a journey as a surprise for him, turned into one of the most inspirational gallery visits I've made this year. Pictures in books and calendars had seemed vaguely reminiscent of the
fauves
and
Cezanne
, and I wasn't sure what new discoveries I'd find.
But these guys were amazing. They did something right in capturing the ethereal wildness and 'otherness' of extreme wild places. It was the boldness of colour that somehow never lost their realism. The bravery of painting one piece almost entirely in pink and mauve, without it ever looking feminine or delicate – merely evocative of the mysterious sunsets you find when surrounded by water and mountains (see above: Evening, Canoe Lake, 1915-16). And the contrast that I have long loved in some of
Kandinsky
's '
Murnau
' paintings – of very, very dark against deeply rich colours. Managing, somehow, not to look false, but to capture my favourite moments of sunshine, in September as the sun lowers and the shadows become long, and the grass reaches and impossible shade of green.
I've not worked much with landscapes, and this is something I've struggled with since my trip to South America, where the landscapes hosted my most profound experiences. Group of Seven challenged me to open my paintbox and try again, revisit my sketches and my photographs, tackle those colours and take them further …