Work and play have recently brought me into contact with the gorgeously refurbished
Whitworth Art Gallery
in Manchester. Not only a zone of paradise for littluns and an inspiration to us all for how art and the environment need not be kept apart, it has an art collection that is right up my street. Watch as thousands of unfinishable ideas unfold!
Highlights for me ...
Richard Forster
: Not my usual bag, but all the better for it! This guy has devoted his life to making studied copies in pencil of black and white photographs - so accurately that it's hard to tell the difference. It blew my mind to see enormous, simple, beautiful photographs of waves lapping gently onto a sandy shore ... and later to realise that they were not photographs at all, but pencil drawings.
One inspiration I will never have the patience to follow up!
Green
: As part of it's environmental association, the Gallery has a lovely display on the theme of 'green' - I think the Whitworth is overflowing with glorious patterns in the forms of fabrics and wallpapers, so the display took a few of the most organic of these as a part of their exhibition. But then they also looked at upcycling (and gave me a host of ideas of what to do with the bits and pieces I have), and, a lady after my own heart,
Michelle Walker
has created a quilt from recycled plastic bags, all green. A new way for me to explore my love of plastic bags, perhaps ...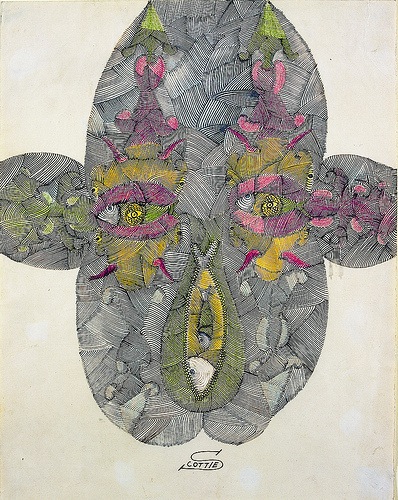 Portraits
: Finally, the Whitworth displays a lovely range of portraits - and in fact this is what drew me back to the gallery in the first place, as I glimpsed it from the corner of my eye as I was on a sustainability tour, and didn't have chance to return to it that day. Interestingly, amidst portraits by and of Francis Bacon, Lucian Freud, Chris Ofili and Stanley Spencer, I found myself repeatedly drawn to works from an
Outsider Art
collection, including one by Scottie (unfortunately not this one, but very similar). The patterns, perhaps, the originality and personal nature of drawings created directly from the heart and mind. It made me want to doodle more.
Whitworth Art Gallery has an awe-inspiring
programme for Under 5s
. One day I'll return when Feets is awake ... and report back!